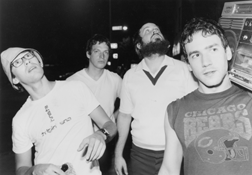 Harrison Haynes, Syd Butler, Tim Harrington, Seth Jabour

Photo: Andrew Paynter
www.lessavyfav.com
email les savy fav
12.02.02 Les Savy Fav interviewed in Noreasterzine here

10.01.01 The "Reformat (Dramatic Reading)" 7" is here! Also...we just posted 2 mp3's from the new album "Go Forth" on Frenchkiss Records. See below...

07.11.01 The Self-Starter Foundation is pleased to announce plans to release "the lost single" by Les Savy Fav sometime this Summer. "Reformat (Dramatic Reading)" is getting ready to go into production over a year after it was supposed to come out on a different label.




Les Savy Fav formed in 1995 while studying art at Rhode Island School of Design. From its inception the band has married art rock and rock rock disregarding the rules of both in the process. Best known for their chaotic live shows, the band has also released two full length albums, "3/5" and "The Cat and the Cobra". They have also released/are releasing 7 inch singles on Sub Pop, DeSoto, X-Mist, and The Self-Starter Foundation.

About two years ago LSF trimmed down to a four piece; original second guitarist Gibb Slife left to pursue his painting. The first product of this line up change was ROME(written upside down), an EP released in the Fall of 2000 on Southern Records. Although it was written in only 4 weeks and recorded in only 5 days it came across as the bands most developed recording to date.

Now it's October, 2001. It's time for, as Billy Bragg stated it right on the cover of his "Talking With The Taxman About Poetry" album, the difficult third album. We all know that third albums can make or break a band. We also know, especially if you do some revisionist math regarding EP's, that "In On The Killtaker" and "Doolittle" were both third albums. Well...."Go Forth" is Les Savy Fav's "The Queen Is Dead". It's as simple as that. Coming October 23rd on Frenchkiss Records.


"The Slip" from "Go Forth" on Frenchkiss
"Tragic Monsters" from "Go Forth" on Frenchkiss
"Dishonest Don Part II"
"Wake Up!"
"Scout's Honor"
"Je Taime"